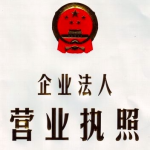 "五证合一, 一照一码"  Five licenses in one, one identity one number.
The Zhejiang province government requires all businesses to get a new business licenses. This new business license will unify 5 different licenses and certificates to simplify the process:
business license
organizational code certificate
tax registration certificate
social insurance registration certificate
statistics registration certificate
All these will be combined into the new business license. All old licenses and certificates will be discontinued and can not be renewed any more.
The application form will need copies of all 5 certificates, the signature of the legal representative and company chop. The change of the business license may also trigger further need of registration renewal at other government offices, banks and insurances. A timely and thorough preparation is very important in these matters to avoid any disruptions of business operations.